Breast, Prostate and Colon Health  •  Hormone Balance  •  Menopause Relief  • 
Healthy Detoxification  •  Cellular Defense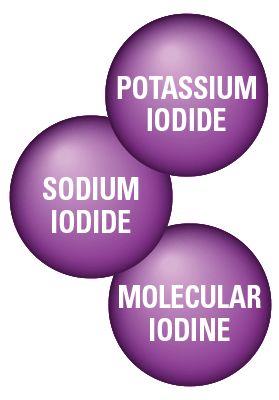 Tri-Iodine provides three beneficial forms of iodine to nourish multiple body systems: a blend of potassium iodide, sodium iodide, and molecular iodine.
Three forms of iodine provide a wider spectrum of benefits:
Potassium iodide and sodium iodide for hormone balance and immune health.
Molecular iodine for breast, prostate, colon, and cellular health
After researchers discovered that iodine deficiency caused goiters, iodine was added to table salt in the 1920s and became common in the American diet. However, iodine in the diet has decreased almost 50% in the last 30 years. At the same time, our intake of chlorine, fluoride, and bromide have all increased.
Adding iodine can make a dramatic difference in your health. Iodine is one of the most important minerals required for healthy cellular and metabolic function. Yet its unlikely that you're getting the optimal amount of iodine you need. While the thyroid is the only gland in the body to store iodine, the breasts, ovaries, uterus and prostate require especially large quantities of this important mineral
Tri-Iodine supplies the crucial support you need for:
Breast, Uterine, Prostate and Colon Health
Hormone Balance and Menopause Relief
Detoxification of Environmental Stressors
Cellular Defense Throughout the Body
0
stars based on
0
reviews